My Cream of Broccoli Secret!
Cream of Broccoli Soup doesn't get any better than putting it in a toasted Bread Bowl, does it? It's not a necessity but it sure does boost the look and comfort of eating soup with bread. For this Cream of Broccoli Soup recipe, I decided to dig deep and give you the best of the best with combinations of 5 star rating recipes. So I know for a fact that this soup will strike a new chord for you and bless you with a terrific way to make Cream of Broccoli Soup in the future.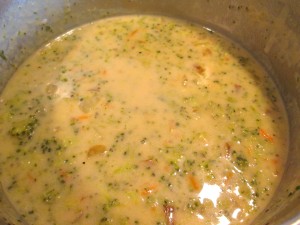 My top 3 favorite soups start out sautéing onions. At least the way I do it. It seems to bring out more of a rich flavor in the soup when it's done that way. In my Cream of Broccoli recipe, I sauté the onions until they almost caramelize. A little bit of sugar helps to speed that process up so it doesn't take so long just caramelizing onions. Also, I like my cream of Broccoli to be a little more on the chunky side, so I don't puree the broccoli. Of course that's a personal preference, but I find that picking a happy medium allows the soup to consume the flavor of the smaller ground pieces, giving it that sweet broccoli flavor, and the larger pieces that throw in that meaty effect, giving the best of both worlds. Who could ask for anything more? Toyota probably!
Cream of Broccoli Soup Ingredients:
1 qt Chicken Stock or Broth
4 Broccoli Stalk Heads
1 Celery stalk (optional)
1 carrot (optional)
1 Onion
2 tbsp butter
3 tbsp flour
1 tsp sugar
1 cup Heavy Whipping Cream
1 tsp ground pepper
4 Bread Soup Bowls
Bring Chicken stock or bouillon seasoned water to a boil. Cut all the vegetables and combine the Broccoli, Celery and Carrot in a Food Processor and blend to desired consistency, pureed or chunky, then add to stock and reduce heat to medium. Saute chopped onion in butter, add sugar and cook until it's golden brown and caramelized. Add Flour, stir, then add the cream and stir again until it thickens and turns almost pasty. Then add the creamy onions to the stock. Reduce the heat to a simmer and stir in the pepper.
The Bread Bowl should be toasted but they don't have to be. I usually throw them in the oven under a high broil and watch them carefully. This allows the bread to have a toasted crispy exterior yet a soft fluffy interior, and it's the way I like it. Pull from the oven and fill with soup. I like to top my Cream of Broccoli with a mild cheddar cheese before I serve.