Mexican Beef Chili
Most Texans believe they have the best chili in the world and they're not wrong but there are some other Beef Chili recipes out there that have become an American Staple on Mexican Food. This Chili Colorado or Chili Con Carne, as it's known in Tex Mex, is a great example. It's origins, however, derive their flavor from the Chili Colorado, which means, " Red Chili"; hence the name.
The Chili Sauce Peppers
The very essence of this recipe comes from the flavor of the Chili Peppers that are cooked down and blended together, with a few other ingredients. Being that this recipe is called, "Chili Colorado" it would be assumed that the Colorado Chili should be used and, technically, that's true but there are a few others that can be used that are practically the same thing.
California and Guajillo Chilis can be used as well. The only main difference is that they technically belong to different pepper families, though, all portraying that beautiful burgundy hugh that gives this recipe it's rich color and flavor.
Though, 3/4 of the dried peppers I use in this recipe are red chili's, it's quite common to add a few dried Pasilla pods as well. These peppers are much darker and look and smell like a cross between a pepper and a prune. All of which are de-seeded and have the stems removed, before cooking.
The Beef you should use
In this recipe I'm using Beef Cheek Meat, which takes a lot longer to tenderize when it's cooking. In fact, unlike how I demonstrate in the video tutorial, it took me 6 hours of braising to get this meat to break down the connective tissue and become tender enough to eat. Big but here, though, the flavor Cabasa or "Cheek Meat" gives off is stronger, like lamb or venison. If you have either of those available, for a good price, I recommend using those instead. Otherwise, for this recipe, stick with a couple of lbs of Beef Chuck.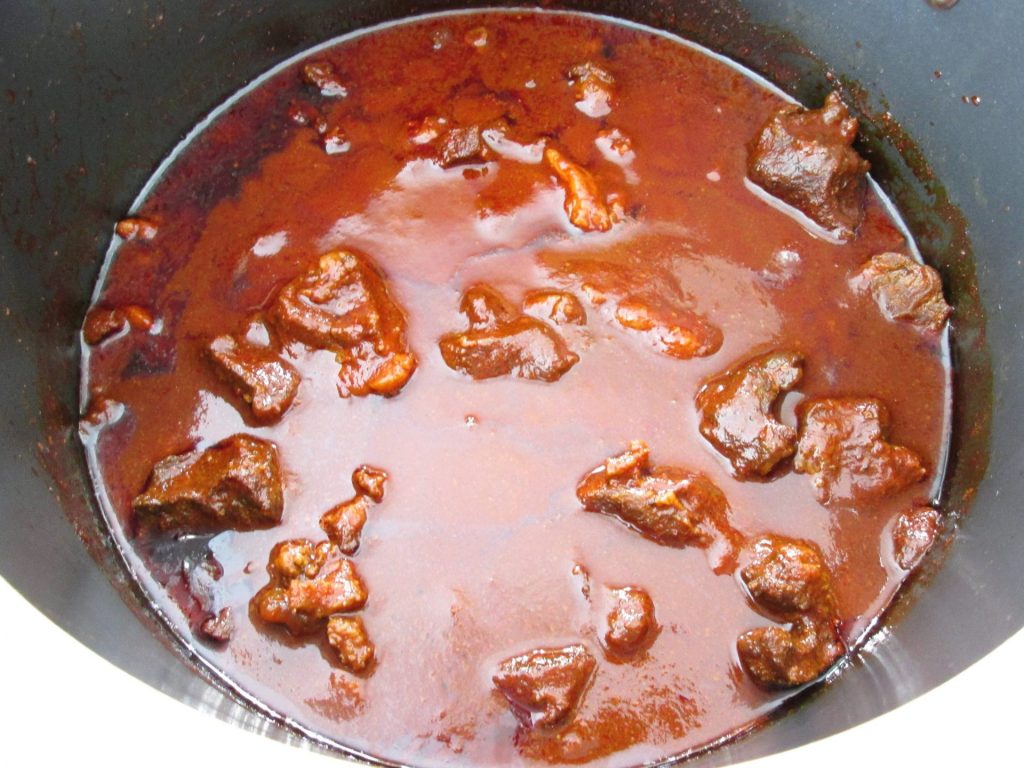 Chili Colorado Ingredients:
4 to 5 lbs Beef Chuck, cut into 1″ to 2″ inch pieces
Guajillo or Chili Sauce
12 Guajillo Chili pods, stemmed and de-seeded
3 Pasilla Chili pods, stemmed and de-seeded
3 qt. Water
5 Cloves Garlic
1/4 cup Knorr Chicken Bouillon
1 tbsp Cumin, ground
1 tbsp Mexican Oregano, dried
Adobe All Purpose seasoning to taste (1/4 to 1/2 tsp)
Meat and Seasoning
Beef, Pork or Chicken
Kosher Salt and Pepper, evenly sprinkle
1 tbsp Smoked Paprika, evenly sprinkle (optional)
1 tbsp Ground Cumin, evenly sprinkle (optional)
Sear seasoned meat ,10 to 12 minutes, under Broiler or in a pan or on a Grill. Then Braise in Guajillo Sauce 1 1/2, lid on, another 1/2 hour, lid off to reduce sauce, if needed. Otherwise, keep the lid on. 2 hours full cook time.
This is great, served with steamed rice or in tacos and burritos.