The Best Chili Ever
I've been searching for a recipe that is exactly what anyone would expect amazing Chili to taste like, if that's how it was described to you. If someone tells me "it's the best", by golly, it better be. I don't want it thin and runny or light on the meat and it better not have any funky after taste. It just better be the best damn chili I've ever eaten or, at least, be convinced its the best in the moment I'm eating it. Well, this is it. I pulled it off and it isn't that crazy either. There aren't a million and one ingredients. I've even added a "Poor Man's" hack to the recipe and a way to save money on bacon.
Carnivorous Chili
I'm going to shoot you straight and tell you right out of the gate, this recipe has meat, as it should, and a lot of it. I do have a fantastic Vegetarian Chili recipe on here, if you're interested, but this is exactly the way I like my chili and it's how I think it should be prepared anywhere. I'm talking about bacon, pork sausage and ground beef mixed into this recipe so, be prepared to go to work.
The cool thing is, I found a way to save 2/3 the cost on bacon by purchasing Bacon Ends and Pieces instead of a standard package. The cheapest bacon around here averages about $3.50 US for a 12 oz package and I bought 3 lbs of Bacon Ends and Pieces for $5.50 so, you do the math. The best part is is that it's perfect chopped up into little pieces that can blend right in with the ground beef and pork sausage.
Chili Beans
There are plenty of beans to choose from that you can add to your chili and you're welcome to substitute or add your favorite to this recipe. My self, I like to stick with the classic Pinto Beans. It's the way I had it growing up and it's still the way I like to eat my chili today. In this recipe I use two 30 oz can's of Frijoles, Pinto Beans, with the juice, but you can use dry beans and reconstitute them ahead of time, if you prefer. Just be sure to add about a cups worth of broth to the recipe to compensate for the missing bean juice. You also might have to add a pinch of salt for the missing sodium.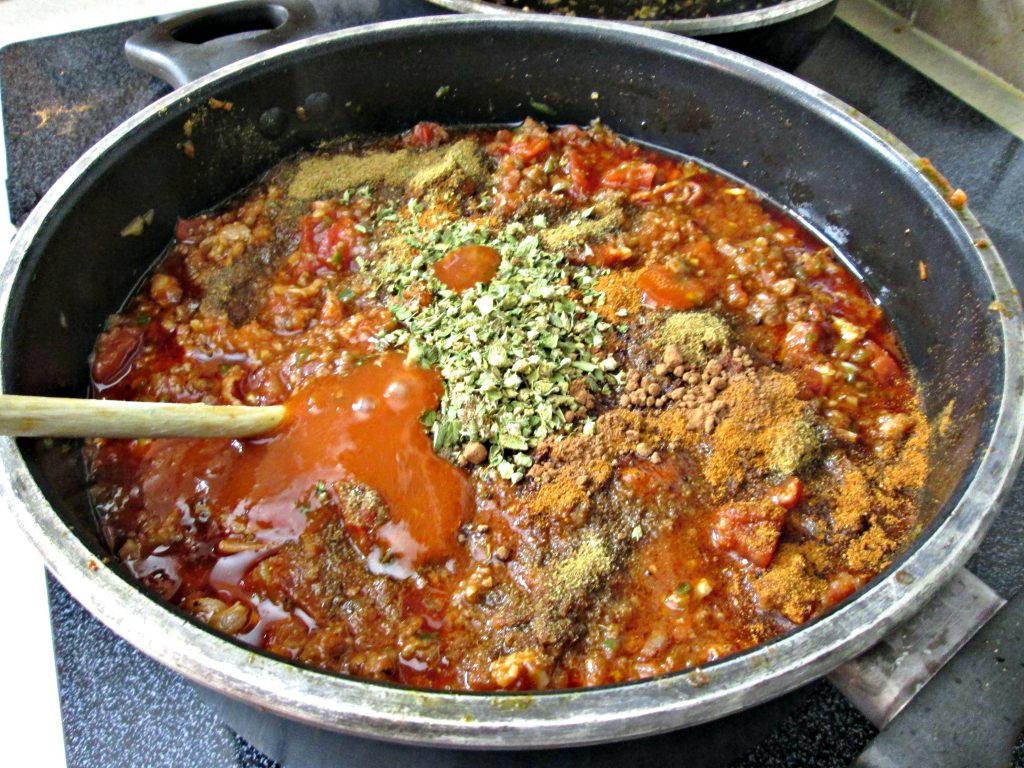 Fine Tuning the Chili
In this recipe, I season the ground beef and pork sausage with 2 small packages of Taco Seasoning; about 2 oz. That's the Poor Man's hack I mentioned but once everything is combined, it's time to fine tune the recipe with a few key ingredients and spices. I add Cumin, Coriander, Chili Powder, Cocoa and Mexican Oregano. Anything else you may think it needs is probably already in the taco seasoning. Unless you want to add Worcestershire or something, not needed btw, I would stick with the original recipe. I also add a few splashes of Brandy but that's optional. It's not uncommon to add beer if you prefer or your favorite bourbon.
This recipe is Chili so, it's a little on the spicy side. I don't think it's too hot to eat but I don't think it's exactly for children either. If you're making this recipe for kids or someone that has mild tastes, use bell peppers instead of Jalapeno's, mild Taco Seasoning, instead of original, and use only 1 Chipotle Pepper in Adobo Sauce. You might even want to ditch the addition of Chili Powder. Feel free to tweak anything else to your specific tastes, if you like, just know that I stand behind this recipe 100% and I think it's perfect exactly the way it is.
Amazing Chili Ingredients:
1.5 lbs Hamburger
12 oz Bacon, chopped
1 lbs Pork Sausage, breakfast
2 pkg Taco Seasoning, original (2 oz )
1 Onion, chopped
3 Jalapenos, chopped with seeds & membrains
3 Chipotle Peppers in Adobo Sauce, chopped
8 Cloves Garlic, chopped
2 30 oz cans Pinto Beans with Juice
2 15 oz cans Tomato Sauce
2 15 oz cans Diced Tomatoes
1 tbsp Cumin
1 tbsp Mexican Oregano
1 tsp Chili Powder
1 tsp Coriander
1/2 tsp Cocoa
1/2 cup Bourbon, optional
Salt and Pepper to taste
Follow the instructions in the video tutorial and I'll show you exactly how easy this Amazing Chili is to make.