Delicious King Crab Legs
Out of all seafood, I've got to admit that King Crab Legs are my all time favorite thing to eat. I love Snow Crab and Dungeoness Crab too but nothing, to me, is so satisfying as rewarding your self with a hefty sized piece of crab meat dipped in garlic butter. The flavor is so rich and sweet and it literally does melt in your mouth. The only problem is that they're usually horribly expensive. I believe, however, that there is a time and place for everything, special occasions like birthdays and holidays have always warranted a place in my heart to splurge a little, even on a budget.
King Crab Legs Market Price
The market price of seafood changes like anything else judging by the supply and demand. The only problem is is that it's a little bit more unpredictable than, let's say, beef or cattle because no one really knows how much is actually available. All we can do is judge the market by the previous and current catch recorded by quality control and government observers that keep track of the numbers.
I worked in Alaska, for a time, on a fishing factory trawler so, I know a little bit about how it works. I lived on a 220 ft fishing boat, out at sea, for 3 to 4 months at a time, depending on the fishing season. The difference with crabbing is how much further north they have to go and how much colder it gets. Crabbing is considered to be one of the most dangerous and deadly professions in the world. If you've ever caught an episode of Deadliest Catch, you know what I'm talking about.
All things considered, there are many other factors that go into pricing King Crab Legs when they hit the market. I can tell you that the price jumped 3 dollars more per pound, when I decided to film this video, from the previous week. If you want to know how I've gotten them cheaper, and I mean 1/3 this cost, check this out.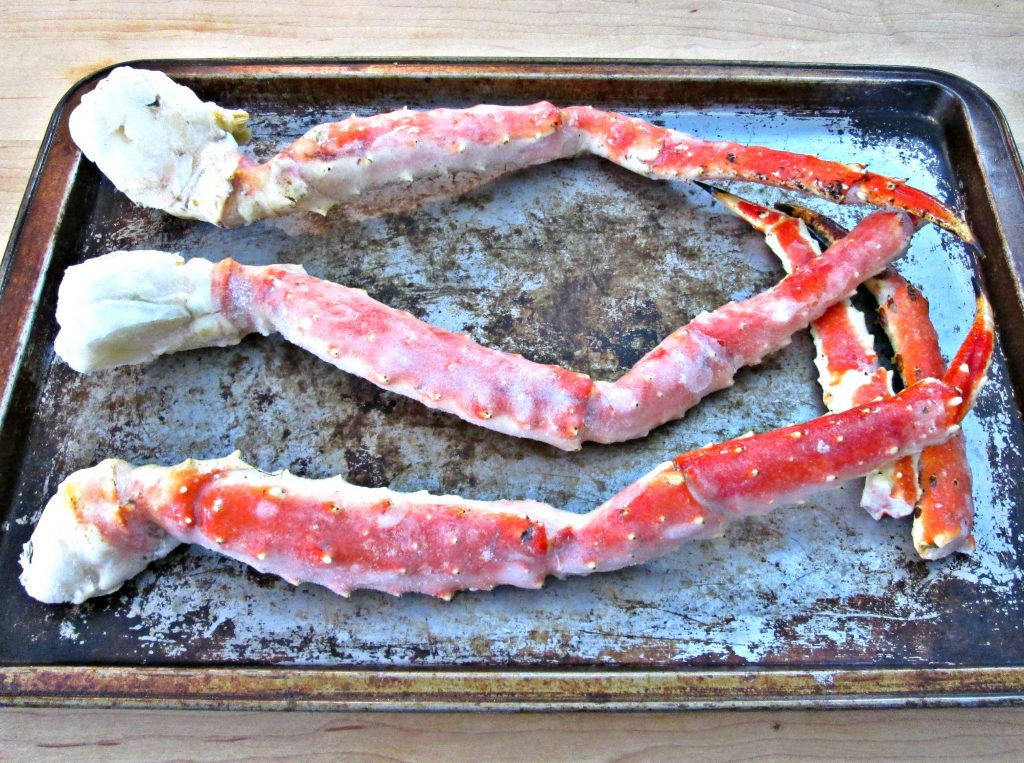 Frozen King Crab Legs
It's no secret that when we buy King Crab Legs we're usually buying them frozen but did you realize that they've already even been pre-cooked. So, cooking these up at home really isn't going to be that difficult because all we need to do is reheat them. They can easily be over cooked, though, so that's something you should avoid at all costs. Following these simple methods should help you cook your crab perfectly and without complications.
Baked, Grilled or Steamed King Crab Legs
The 3 most common ways to cook and/or reheat King Crab Legs is baked in the oven, barbecued on a grill or, the most popular, steamed in a large pot on a stove top. In this video tutorial, I demonstrate how to do all three with ease and I've listed the cooking time and temps, for each process, down below.
King Crab Legs Time and Temperature
Baked: 425° F 15 minutes
Grilled: 400° f 20 minutes
Steamed: 2″ Boiling water 8-10 minutes