The Best Prime Rib Roast
Prime Rib Steak, in my opinion, is by far the king of steaks. Sure there's the glorious Tomahawk Steak and Tri Tip, both are amazing, but nothing beats how tender and juicy a prime rib roast gets from hours of slow and low cooking. Those enzymes break down and make every bite a celebration. Adding smoke to the equation makes it even better because you get that genuine barbecue flavor and texture for each steak as well.
I smoked this Prime Rib Roast on a gas grill, believe it or not, and I say that proudly because the results are incredible. So amazing, in fact, this is the first time I even tried it this way and I can honestly say that I've never had better. I've dialed in a fool proof method of smoking on a gas grill that will please any true fan of barbecue, once they've tried the finished product.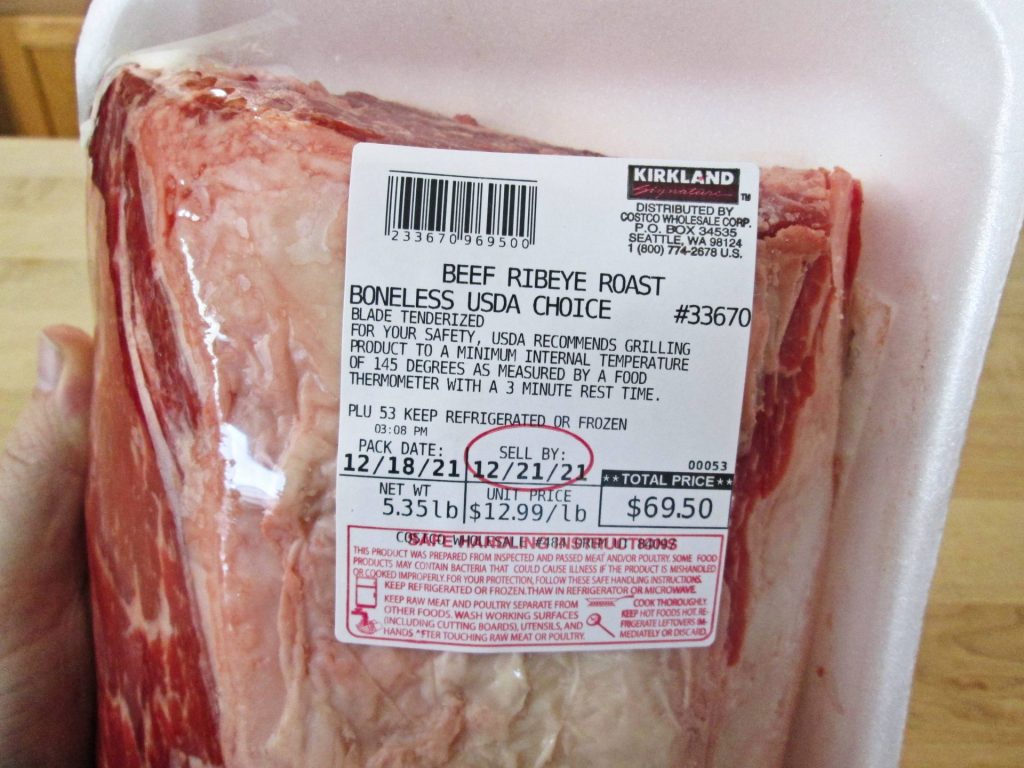 Boneless Beef
As you know, this cut can be purchased with or without the rib bones intact. Personally, I prefer it without because the meat cooks more evenly, all around the roast; leaving each cut steak portion perfectly cooked. It also gets an even layer of seasoning all around each steak and, if you cut 3/4 to 1″ inch steaks, you can season and sear each steak, too.
Seasoning the Roast
There are many different ways to dry rub a Smoked Boneless Prime Rib Roast. I prefer the simplest method; Kosher Salt and Pepper. I mix these two ingredients, 50/50 and I add a third ingredient, dried Rosemary. This gives the steak an aromatic smell and flavor, perfect for the holidays.
Smoking on a Gas Grill
There are 2 basic principles for smoking meat; "Slow and low", constant indirect heat and smoke. That's why smoking on a gas grill is possible. Most grills today provide at least 3 controls for heat. This means there are 3 burners in the grill. All I do is turn off the 2 closest to each other then regulate the internal temperature of the grill with the one that's left.
Most grills also have a thermometer on the lid to make this possible. First, I barely crack the propane open and second, once the grill is lit, I turn the dial down to it's lowest setting, with the lid down and weight until the temperature rises. I roast and smoke a Prime rib, like this one, at 225° F. and I just turn the burner dial until I maintain that steady temperature. In many ways, it's even easier than trying to control a constant temp in an actual smoker. But, a Gas grill doesn't have any smoke so I add it in with pellets stuffed into a cheap smoke tube I bought from amazon.
Smoking Results
As you can see in the photo above, the results I got from smoking on my gas grill, are tremendous. It only took 4 hours to smoke and fully cook. The only thing I did that I haven't yet mentioned is that I added a reverse sear and, I show you how to do that in the video tutorial.
Smoked Boneless Prime Rib Roast Ingredients:
1 Boneless Ribeye Roast
Kosher Salt and Pepper, plus Rosemary, in equal amounts.
Just follow the instructions in the short video tutorial and I'll show you exactly how to smoke a Boneless Prime Rib Roast.