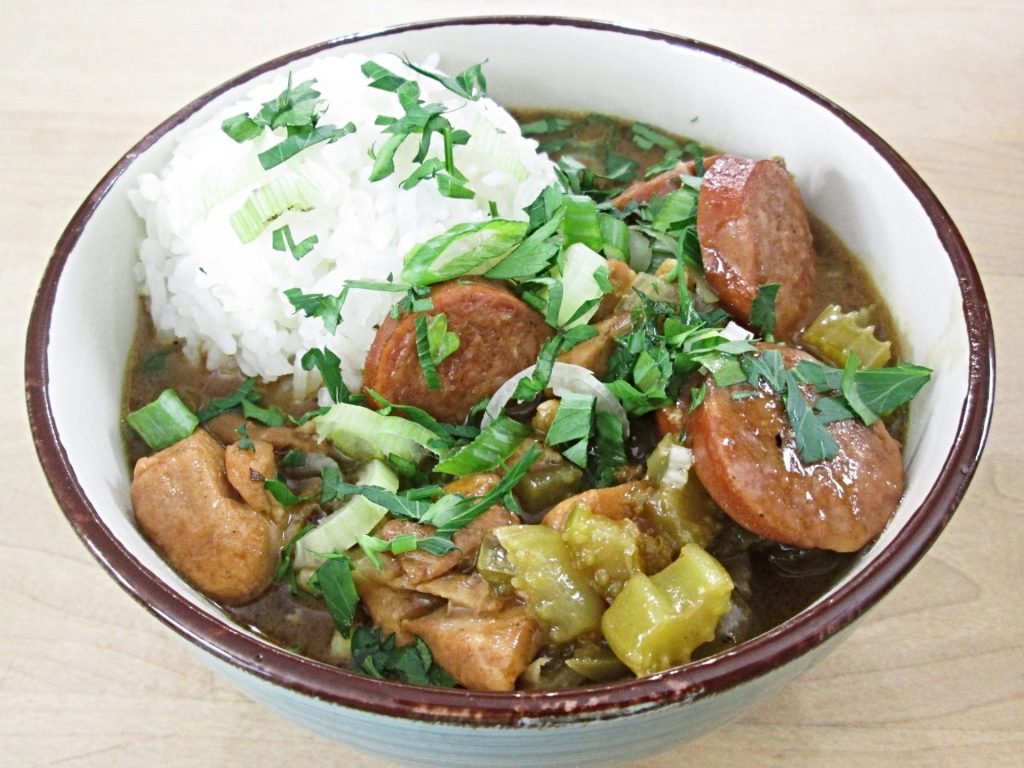 The Best Gumbo
If you love Gumbo and you've been looking for an authentic recipe that's easy and turns out perfect, every time, this is the recipe for you. If you've never tried Chicken and Sausage Gumbo before, this is the recipe for you. It's got everything you need and starts with the most basic ingredients, the "Holy Trinity"; onion, celery and bell pepper.
Chicken, Sausage or Shrimp
This is a Chicken and Sausage Gumbo which consists of smoked Andouille sausage, a classic Cajun delight. But this recipe can be easily converted to a shrimp gumbo recipe if you simply swap the proteins out, pound for pound and season the shrimp the exact same way I recommend you season the chicken.
The Love for cooking Gumbo
It's important to note that any gumbo starts with making a roux, which is slowly cooked equal parts of oil and flour. This is the base of the flavor in any gumbo, and it takes a lot of patience to make because it's constant stirring over medium heat for, approximately, 20 to 30 minutes.
In the south, or online, roux can be purchased pre-made in mayonnaise size jars just like the one I show you in the video tutorial. If you can get your hands on some, it saves a ton of time cooking this recipe and you can focus on the other ingredients, instead, that make this Chicken and Sausage Gumbo so amazing.
Chicken and Sausage Gumbo Ingredients: 4-6 servings
1 Onion, chopped
1 Bell Pepper, chopped
1 Jalapeno, chopped (optional for spicy tastes)
2 Celery sticks, chopped
4 Garlic Cloves, chopped
4 tbsp Roux, (4 tbsp vegetable oil 4 tbsp all purpose flour, cooked)
1/2 can Beer
Kosher Salt & Pepper to taste
1 tbsp Blackened Seasoning, on chicken
1 tsp Kosher Salt & Pepper mixed, on chicken
4 Boneless Chicken Thighs, sliced
1 lbs Andouille Sausage, sliced
1 qt Beef Broth
4 Bay Leaves
4 Green Onions, chopped
1 Bunch Fresh Parsley, chopped
6 cups Long Grain Rice, steamed
Louisiana File Powder, a few dash's for topping each serving
I designed this recipe to easily be doubled or tripled, if need be. Just follow the instructions in the video tutorial and I'll show you exactly how to make this Chicken and Sausage Gumbo.