Juicy Roasted Turkey
If you started following me on this Roasted Turkey Journey, then you started with the last recipe for a Turkey Brine. There in lies one of the biggest secrets of all time and it's the only way I'll prepare and cook a Turkey. It infuses the bird with flavor because it makes the meat retain water. Water has memory so, any ingredient added to the water or brine will marinate the meat. Flavor absorbed into the meat makes a tasty bird but it doesn't end there. No, I've got a simple recipe and technique that is so good it will make your family gobble-gobble.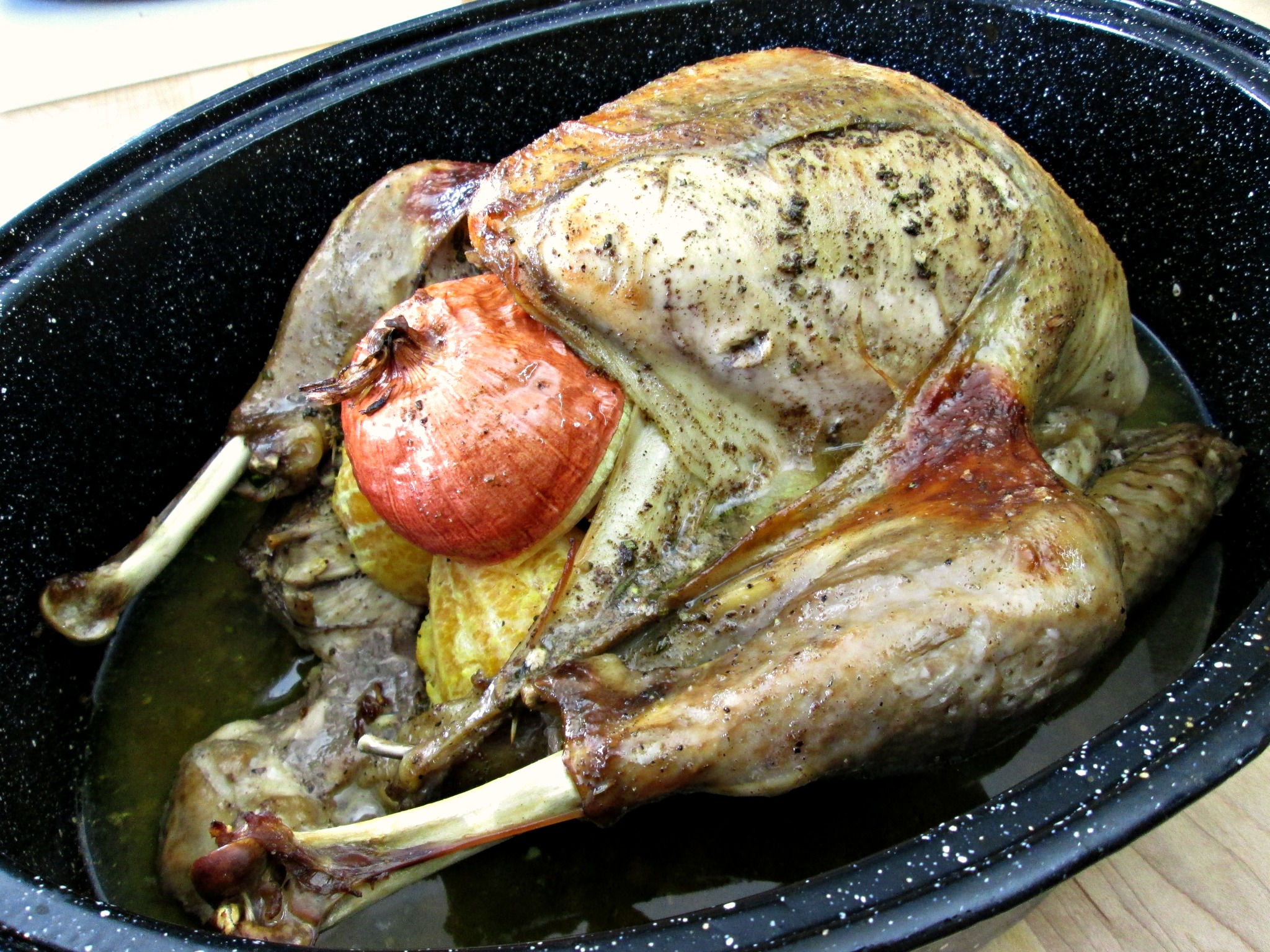 Roasted Turkey Secret
Whether you're baking a Roasted Turkey for Thanksgiving or Christmas, this recipe is a winner because I've added in the season ingredients to make both holiday dinners special. In the Turkey Brine, I add the peel from 2 oranges. Well, nothing goes to waste here in the PMGK so, I use those two oranges to stuff the turkey along with 2 halves of an onion and some fresh rosemary. The secret lies in the rub.
The Rub consists of a few seasoned cubes of butter that are stuffed both under and over the skin of the entire turkey. The technique is simple and easily explained in the video tutorial, but the secret doesn't end there. There's a double bake; first at a higher temp to color and crisp the skin of the bird and the second is to Roast the bird, slow and low, at a lower temperature.
425 degrees for 10 minutes, then baste, and 325 degrees for the next 1 1/2 to 3 hours, depending on the size of the bird. Core temperature, in the breast, should reach 165 degrees Fahrenheit. You can also poke the outside leg with a fork and if the juices run clear, the bird is done.
Roasted Turkey Ingredients:
Rub
1 cup Butter
1 tbsp Olive Oil
2 Garlic Cloves, minced
1 sprig Fresh Rosemary, leaves pulled and chopped
1 tbsp Sage
1/4 tsp Cinnamon
1/8 tsp Ground Clove
1 tbsp Lemon Juice
Salt and Pepper to taste
Stuffing
2 Oranges, pealed and halved
1 Onion, halved
2 Sprigs Rosemary
A few pinches of Kosher Salt and Pepper in the cavity under the breast meat.
There's a follow up gravy recipe, that's used from the drippings and stuffing of this Roasted Turkey, and I'll be posting that recipe next. So, be sure to watch for that and watch the video tutorial for this Roasted Turkey recipe and I'll show you just how easy this is to make with the above ingredients.