The Best Egg Drop Soup
I don't know why this soup isn't consistently delicious, everywhere it's served because it's not that difficult to make. My daughter loves this soup but she too prefers the soup from one specific Chinese restaurant over any other so, I decided to make it the way she and I both like it. I can tell you that this is probably the Best Egg Drop Soup recipe and it only gets better, the longer it simmers.
It's got all of the basic vegetable ingredients, including carrot, corn and peas. Other than the egg ribbons, that I teach you how to make, firm Tofu is the preferred protein in this soup and you can garnish with green onion and/or add it directly to the soup. I also show you how easy it is to make the crispy wonton croutons we all love to crunch on in our soup.
MSG is in this recipe and you really shouldn't worry about it because this soup is good with or without it. However, You really shouldn't be concerned with all of the misconceptions about this ingredient and HERE'S WHY. Also, know that Chinese restaurants use it in almost everything and it's one of the reasons their food tastes so much better than your homemade Chinese cooking. MSG achieves that Umami that we all crave in food and if you read the article I linked above, you'll understand more about it.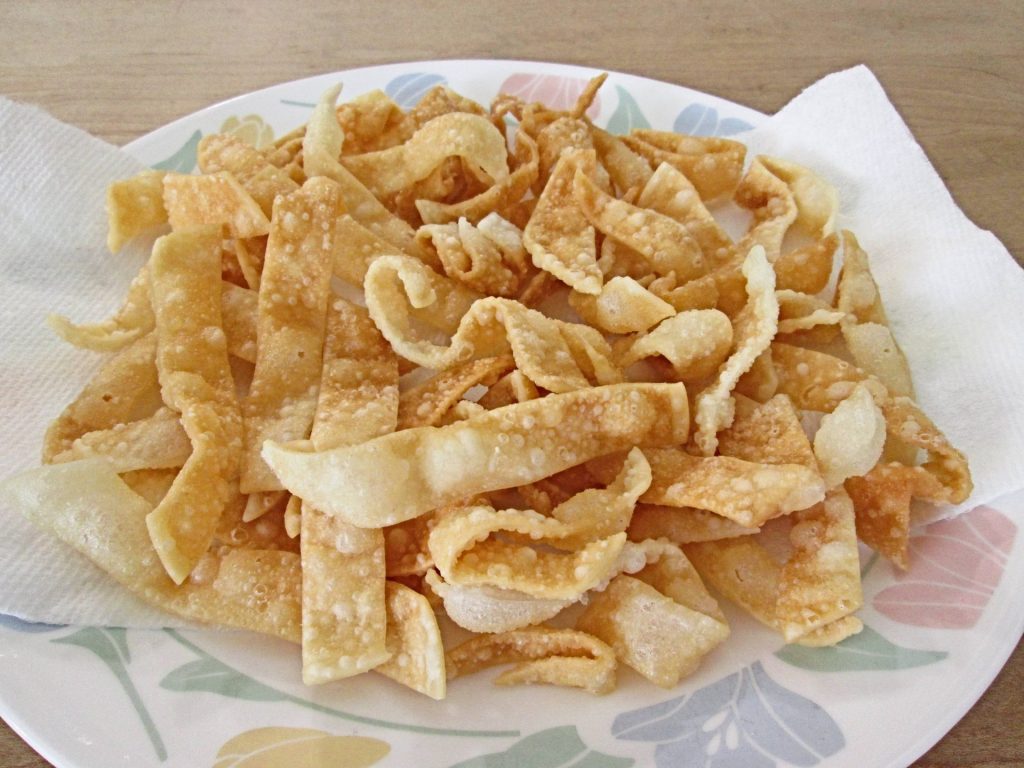 Egg Drop Soup Ingredients:
1 pkg Wonton Wrappers, fried crunchies (optional)
1 tsp Olive Oil
1 tbsp Ginger, freshly chopped
2 qt Chicken Broth
2 tbsp Rice Cooking Wine
2 Eggs
2 tsp Sesame oil
1 tbsp Soy Sauce
1 tsp sugar
1/4 tsp White Pepper
1 tsp MSG
1/4 cup Corn Starch, mix with 1 cup of the Chicken Broth
1/4 cup Corn
1/4 cup Frozen Peas
1/4 Carrots
8 oz Tofu, firm, cubed slices
2 Green Onions, chopped
Kosher Salt and Black Pepper to taste
Oil for Frying, 350° Fahrenheit
2 Eggs, for egg ribbons, soup should be boiling. Add Corn Starch after.
1/4 cup Corn Starch, pre-mix with 1 cup of the broth and stir in last.
Just watch the short video tutorial and I'll show yo exactly how to make this Egg Drop Soup.