The Best Ribeye Steak
Personally, I think that the Ribeye Steak ranks supreme in comparison to price and quality. Ribeye's are great sliced thick or thin and are very versatile. They can be aged, smoked, grilled, broiled, pan fried and a dozen other different ways I can think of. You can eat a Ribeye piece by piece or cut up into pieces for fajita's, quesadilla's, sandwich's, stir fry and many other worldly recipes. I've had this steak cooked every which way and in my opinion, this is, hands down, the very best way to cook a whole steak
Ribeye Steak Formula
The ingredients in this Ribeye Steak recipe are very simplified and there's a real basic formula that can be applied to any size of steak: Salt, fat, sear and bake. It's that simple and each step breaks down like this:
Salt = Seasoning, kosher Salt & Pepper + Seasoned Salt
Fat = Olive oil and Butter
Sear = Medium heat, 1 minute per 1/2 inch of Steak thickness Example: 1 inch steaks get 2 minute's of sear per side
Bake: 350 degrees Fahrenheit for 5 to 7 minutes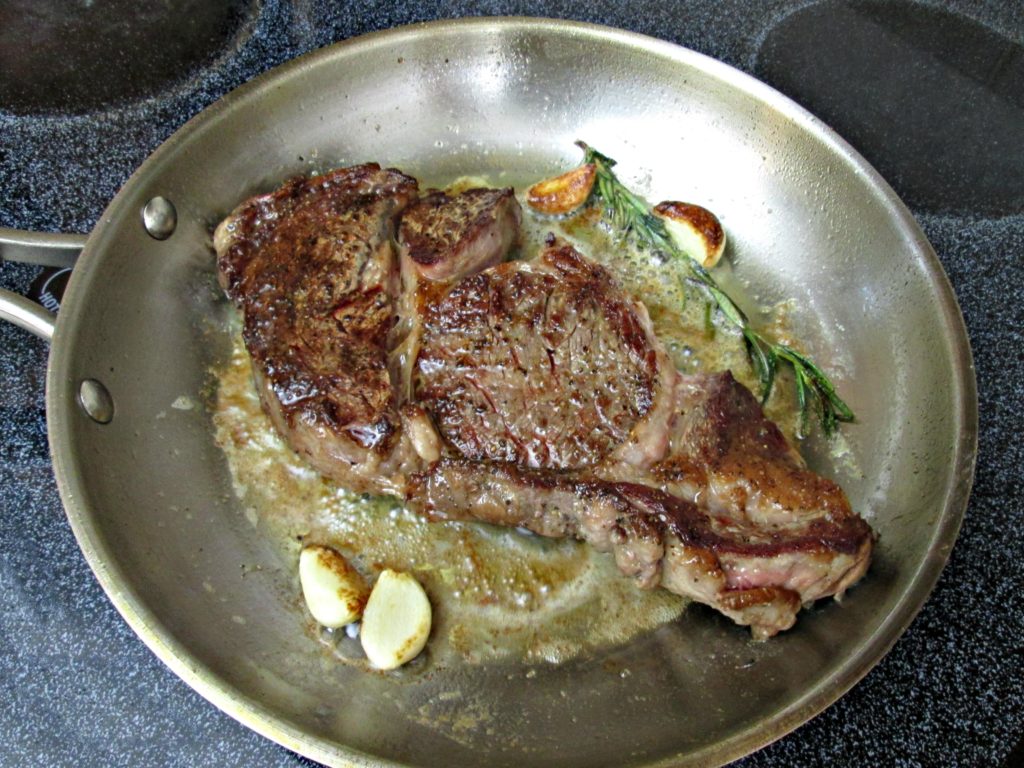 Understanding the Ribeye Steak Formula
It's important to let your Ribeye Steak get to room temperature before you attempt cooking. A cold steak will not turn out the same, following these instructions and it will be under-cooked because the meat started out cold(assuming it was refrigerated).
Salt: Salt and Pepper all sides of the steak; top, bottom and the sides including the fat cap. I like to add Seasoned salt as well and I use kosher salt, not table.
Fat & Sear: Pan fry and sear over medium heat with olive oil, fresh garlic and rosemary. Then the addition of butter after the first and ONLY flip of the steak. Bast the steak with the melted butter for extra flavor. Sear for the remaining time then remove from the burner.
Bake: The sear creates the steak crust and the fat, with the addition of the seasoning, garlic and rosemary, adds the flavor. The baking distributes heat more evenly to all sides of the Ribeye Steak and drastically change the rarity of the meat in the last few minutes of cooking. A 1″ inch steak with 5 to 7 minutes of baking time can achieve a sexy medium rare, after resting. How pink your medium rare is might be different than mine so, gauge it carefully. Every half minute you add after that will just continue cooking the steak until it's well done or burnt to a crisp. What ever you do, however, don't exceed more than 10 minutes of baking time or you'll be dining with good year.
Pan Fried Ribeye Steak Ingredients:
1 16 oz Ribeye Steak
1 tbsp Olive Oil
1 tbsp Butter
1 Sprig Rosemary
4 Cloves Garlic
Kosher salt, pepper and seasoned salt to taste.
Pan fry and sear both sides of your steak over medium heat and bake at 350 degrees Fahrenheit. Follow the instructions in the video tutorial and I'll show you exactly how I make the best pan fried Ribeye Steak.