The Best Shredded Chicken Tacos
If you're a fan of Tex-Mex or Mexican food and you love Shredded Chicken Tacos, you're in for a treat because this is the real deal and they're so easy to make using this slow cooker recipe. The meat is fall off the bone tender and full of amazing flavor. Plus, this recipe can be used for more than just tacos. I'm talking about burritos, nachos, chimichangas, quesadillas or served over rice, it's that versatile.
Shredded Chicken Taco Seasoning
One of the best seasonings to use for this Shredded chicken Taco recipe is Blackened Seasoning. It's got everything you need in one and can usually be found with barbecue rubs and all purpose seasonings in your grocery store. It's also very easy to make if you can't find someone that carries it and you want or need to make your own. Here's my recipe for Blackened Seasoning if you're interested. The seasoning in the photos and video tutorial is my recipe and it's got smoked paprika, cumin, onion & garlic powder, as well as a few other ingredients you're going to love. It goes great with pork, beef, poultry and seafood. I highly recommend you try it, if you haven't already. I also use kosher salt and pepper.
Shredded Chicken Tacos Secret Sauce
Every recipe has that one thing that makes it really special and this Shredded Chicken Tacos recipe is no exception. In the bottom of your slow cooker, you want to add a can of diced tomatoes, chipotle peppers and some minced or chopped garlic. Then, once you add the seasoned chicken thighs, top everything off with Mexican Oregano. If you're Crock-Pot has a heavy glass lid like mine and it doesn't allow steam to escape, you won't have to add any liquid. Otherwise, 1 cup of chicken broth might be necessary. The cooking time will depend on what you're trying to accomplish. Set on low, I personally cook for 10 to 12 hours but the recommended cooking time by the manufactures is between 6 to 8. On high, the recommended time is 4 to 6 so, you decide.
De-bone the Chicken Tacos Meat
One thing I appreciate is not having to spit back out the food I'm trying to eat. Nothing more annoying to me than biting into a texture that just isn't palatable so, there's two things you want to get rid of after the chicken is cooked. They're both considered one in the same, more or less, but they often separate when the meat tenderizes and that's the thigh bone and the end cap on the bone. Then once those have been removed, feel free to fork and shred the meat.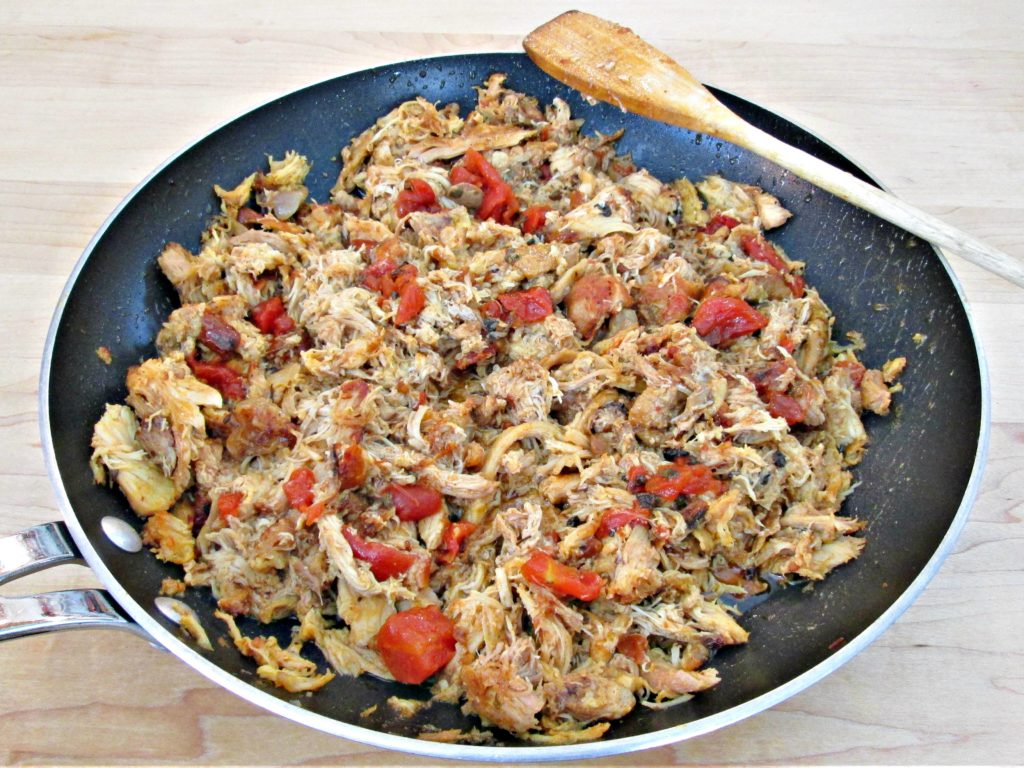 Pan Fry Shredded Chicken Tacos Meat
I like to add a little more texture to the meat, in my Shredded Chicken Tacos, by pan frying the the shreds in an 8th inch of oil for about 5 minutes. Once it starts getting some color and gets a little crispy on the edges, I had a few scoops of the left over slow cooker juice. You don't want the meat to dry out and there's so much flavor there, it's good to utilize and not let it go to waste.
Shredded Chicken Tacos Ingredients:
8 to 10 Chicken Thighs, boneless or bone in
Season with Kosher Salt & Pepper and Blackened Seasoning
1 can Diced Tomatoes
2 tbsp Chipotle Peppers in adobo sauce
1 tbsp Mexican Oregano
1 pkg Corn Tortilla's
Oil for frying, canola or vegetable
Cook on the Low setting for 10 to 12 hours in a Slow Cooker and follow the directions in the Shredded Chicken Tacos video tutorial.