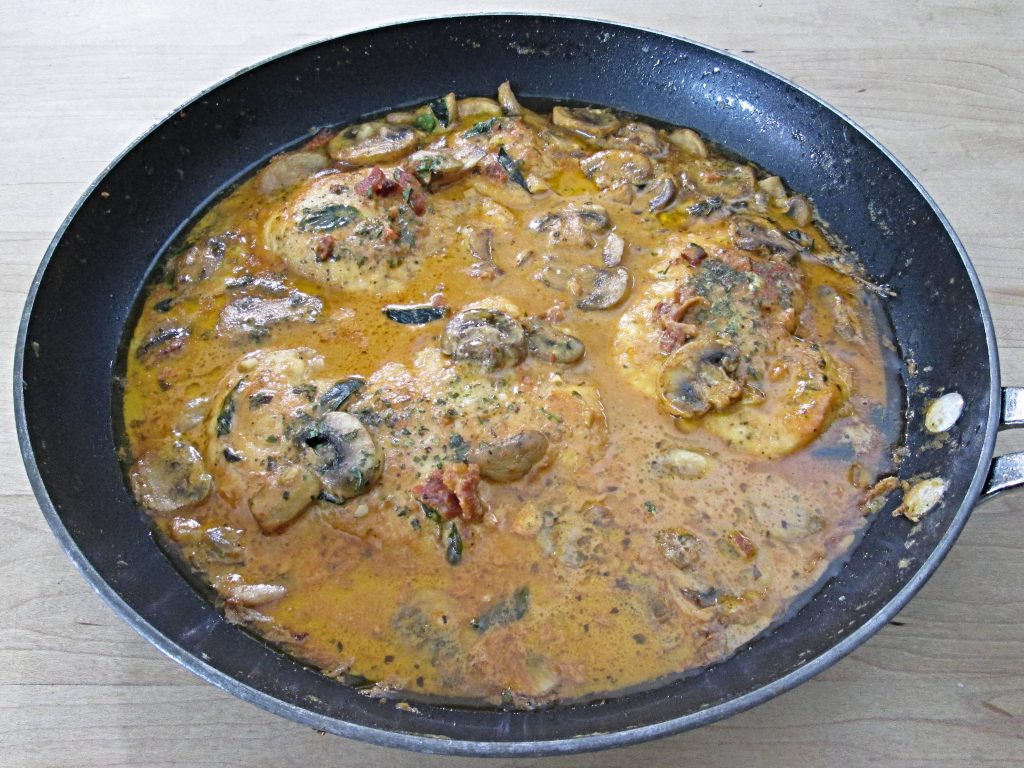 The Best Chicken Marsala
I can't say enough about this recipe. Braised Chicken never tasted better than with this Mushroom, Marsala and cream wine sauce. It's very easy to make but the complexity of the sauce is derived from specific ingredients that change the flavor of the dish, if they're not fresh and/or dried. The taste of dried Thyme or Oregano is a complete game changer if they're not added fresh. Both still taste great, in my opinion, but change the flavor drastically, none the less. You might want to experiment with both to find where your tastes lie.
Deepen and Enrich the Flavor
Season everything from the start. After I butterfly the chicken breast, I season with Kosher salt and pepper. I salt the sautéed mushrooms. I salt the water my pasta cooks in. I even add cooked bacon, which is salty. This may sound like a lot of salt but a little goes a long way.
I also add Spaghetti Sauce (Prego) and Lemon Juice. The tomato, from the sauce deepens the flavor and darkens the tone. Alternatives could be tomato paste or plain tomato sauce if you'd like. I'm betting that it could even be done with a squeeze of Ketchup. I add the lemon to the sauce while it's cooking but, I find that it's even more refreshing, adding a fresh squeeze of lemon juice, over the top of each serving, even more satisfying.
The wine I use in this dish is what gives this recipe its name, Marsala. It can be dry or sweet and most recipes call for dry Marsala wine but, I prefer mine sweet. Again, that's just a personal preference so you decide what's best for you.
Chicken Marsala Ingredients: Serves 2 to 3
1 Chicken Breast, Halved, Butterflied & Tenderized with a Mallet, then seasoned with Kosher Salt and Pepper and dredged in flour
1/4 cup All Purpose Flour
3 tbsp Butter, add 2 for chicken and 1 for Mushrooms
1 tbsp Olive Oil
2 Garlic Cloves, chopped
5 oz Mushrooms
1 cup Marsala Cooking Wine, Dry is recommended but I used Sweet and loved it!
1/2 cup Whipping Cream/Half and Half
1/3 cup Marinara or Spaghetti Sauce
1 pinch Fresh Parsley, chopped
1 Green Onion, chopped (optional)
Kosher Salt and Pepper to taste
This recipe can be served over your favorite pasta, rice, bread etc. and is often garnished with Scallions over the top. Just follow the instructions in the short video tutorial and I'll show you exactly how to make this Chicken Marsala recipe.