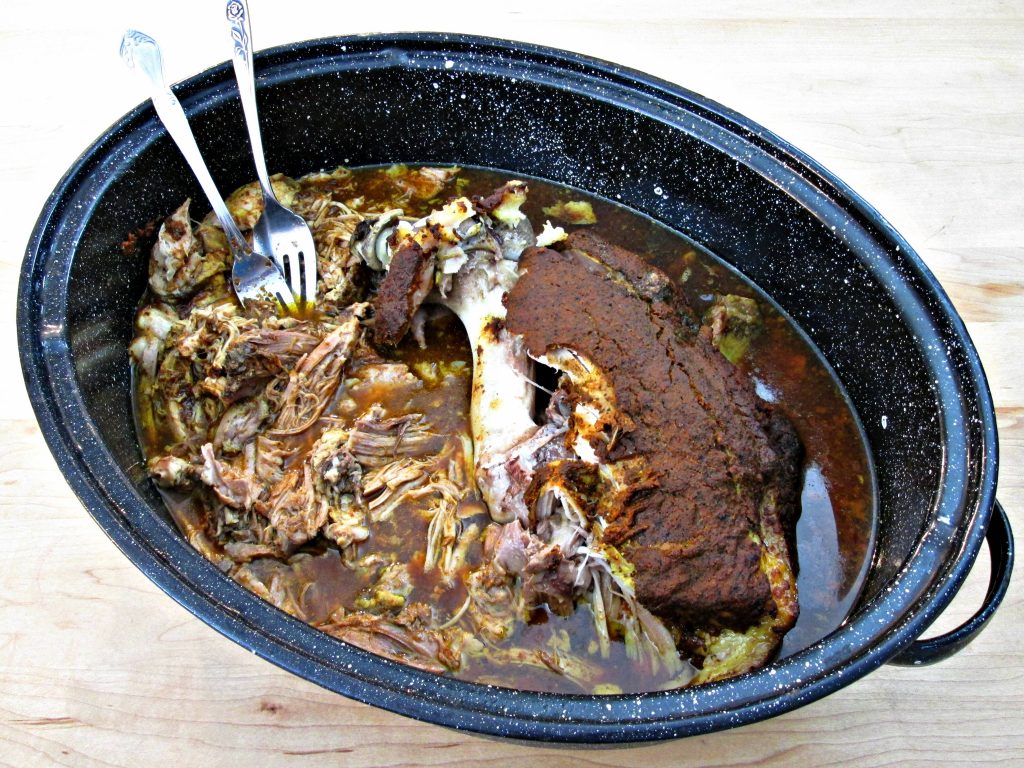 The Best Barbacoa Pork
Usually, when I hit a grand slam, I'm either running the bases or shoveling food in my face at Denny's. Which one of those two moments do you think this is? If you guessed Denny's, you're half right. Only, this time, I'm stuffing my face with this amazing Barbacoa Pork recipe because it's a winner.
Barbacoa Pork Marinade
In case you don't know, Barbacoa is a recipe that was developed years ago in the Caribbean and it's where the word barbecue derives. It's usually prepared with beef meat, from the head. Sometimes goat or lamb is substituted for more gaminess and flavor(I think that's a made up word, "Gaminess?" idk).
In this recipe, I use a Pork Picnic Roast(shoulder), and I used the Barbacoa Beef recipe that I filmed and posted a couple of years ago and transposed it for pork by adding Cilantro and Orange juice to the ingredients. That might sound crazy but it works, good I might add. And, Carnitas has Orange juice in it so, don't even sweat it. Anyway, I only compare the two because of the mad similarities; they're both pork recipes, with similar ingredients, cooked for long hours at a time and they both make excellent tacos.
Barbacoa Pork Tacos
In my opinion, the best tacos are fried tacos and this Barbacoa Pork recipe is no exception. I do occasionally double stack corn tortilla's and eat my tacos soft but, nothing beats a little hot oil and some salt, to crisp up and flavor a boring tortilla. Then, I just keep it real with some simple condiments; onion, cilantro and lime. No need for salsa because the fresh flavor and spice is already in each bite. If you want to check out my Pico De Gallo recipe, however, I'm not going to stop you.
Barbacoa Pork Ingredients:
10 lbs Pork Picnic Roast
Kosher Salt and Pepper 1/2 tsp per lb
Marinade
1 small onion
6 Garlic Cloves, peeled
2 Chipotle Chili's in Adobo Sauce
2 tbsp Adobo Sauce
1 1/2 tbsp Cumin
1 tbsp Turmeric
1/2 tsp Ground Cloves
1 tbsp Oregano, dried
1/4 cup apple cider vinegar
1 tbsp fish sauce
1/2 cup Orange juice
1/2 bunch Cilantro
1 cup Red Enchilada Sauce, PMGK Recipe Only
Red Enchilada Sauce Ingredients: (Watch the Video)
12 Large Dehydrated Chili's, seeded
1 qt Chicken Broth, approximately
1/2 tsp Cumin
1/2 tsp Onion Powder
1/4 tsp Salt, adjust to taste
2 garlic Cloves
Follow the instructions in the Barbacoa Pork video tutorial and Bake the marinated Picnic Roast at 200° Fahrenheit for 12 hours. For Tacos, I recommend Corn tortilla's, raw or fried topped with Barbacoa Pork and Garnished with chopped Onion, Cilantro and Fresh Lime.